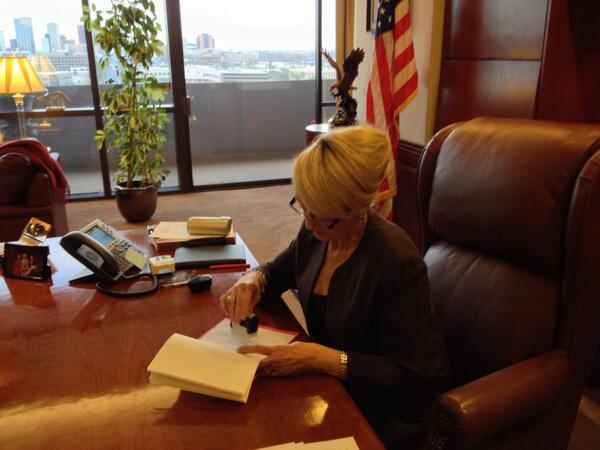 TUCSON — Arizona Gov. Jan Brewer has vetoed a controversial bill that would have bolstered a business owner's right to refuse service to gays and others on the basis of religion. (Source)
The United States of America must not return to the days of separate water fountains for African Americans and a Trail of Tears for Native American Indians. We must not have the kind of moral regression that made women little more than chattel/property for their owner's/husband's. Women weren't even allowed to vote, for goodness sake!
It would seem that there are traditionalists who want to return America to a place that was only brought forward through actual civil war. Why haven't Americans learned after all of this time, blood, sweat, and tears? Why do we have people unwilling to recognize how fundamental it is that people have civil rights, regardless of race, gender, religion, marital status, sexual orientation, or anything else that can be discriminated against?
Today's Christian must recognize that an unwillingness to do business with others because of their sexual orientation or lifestyle is akin to times in which we made African American's ride in the back of the bus, drink from separate water fountains, and other horrific atrocities. We cannot go back to these awful places in history.
May the youth of this nation stand up and stand firm for freedom for all Americans, and equal rights for all. This is really a no-brainer. There are some issues that shouldn't be that difficult to grasp what side of the aisle we should fall upon, politically and spiritually. If the behavior in question is hateful, discriminatory, ugly, and intentionally hurts someone else, it is wrong and is not necessary. We don't  uphold religious rights by crushing the civil rights of others. We live in a multi-cultural society. We share this country with people of varying personal religious beliefs, ethnicities, and cultures. It's not just "our America."  It's OUR America, all of ours.
If you're someone who still supports racism, prejudice, or discrimination, you need to repent. God does not approve of treating your neighbor with contempt for any reason. We are under the New Covenant, thanks to the blood of Jesus Christ our Lord.
Galatians 3:28: There is neither Jew nor Greek, there is neither slave nor free, there is no male and female, for you are all one in Christ Jesus.
1 Samuel 16:7 : But the Lord said to Samuel, "Do not look on his appearance or on the height of his stature, because I have rejected him. For the Lord sees not as man sees: man looks on the outward appearance, but the Lord looks on the heart."
Acts 10:34-35:  So Peter opened his mouth and said: "Truly I understand that God shows no partiality, but in every nation anyone who fears him and does what is right is acceptable to him."
Related Articles:
http://www.gotquestions.org/racism-Bible.html
http://www.blogos.org/exploringtheword/yes-I-sin.php
http://www.huffingtonpost.com/jay-michaelson/jesuss-advice-to-the-turn_b_4830870.html